They are found to opened sky, free to all, the shoulders of the Port of Levant, in a pool encircled from sulphureous knolls from which fuoriescono soffioni warm used it is for insufflations (to debita distance and with the due cautions), is for useful applications to the body, above all, for who it cannot or it does not want to make the immersion in mud. These are a clay mixture with high micronizzato sulfur content and radioactive power of approximately 45 millimicrocurie for liter. PH the sulfur acid, the high content, the temperature between 40°C and the 80°C for continuous afflusso of warm gases from sources the basements in communication seem, with the active center of the volcano, assure sterility of mud. In particular, on the island two ipertermali water emergencies are found in correspondence di.le which the water and the gas, erompendo to the surface, comes to form above all of particular mud of great effectiveness for the artreoreumatiche diseases and, in association to the remarkable insolation and the climate, also for some dermatological problems like the psoriasis.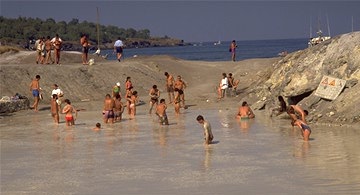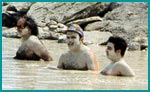 Curable pathologies
Reumatiche and articular diseases: Osteoporosis, arthrosis of the hand, the foot, the ginocchio and the hip, spondiloartrosi, fibromialgie, syndrome of the carpale tunnel, anchylosing spondylitis, arthritis psorisiaca, reumatismi fibromiositi to us.
Dermatological diseases: Psoriasis, eczemas, urticaria, furunculosis, acne.

It employs therapeutic
- Crenoterapia;
- Balneotherapy;
- Fangoterapia.