Palermitan beach resort par excellance, Mondello extends along a delightful bay, from the foot of Monte Pellegrino to the foot of Monte Gallo. One of the most famous beach resort in the island, it has experienced a considerable development since the post-war period which, however, has not affected the extensive green areas surrounding private houses, hotels and places of amusement. Many Palermitans have chosen to live in Mondello, a place that can be rightly called a garden city, far from the nearby city's busy traffic. The old fishing village lies at the northern end of the bay, on the site of an ancient "tonnara" (tunny-fishery) whose 15C round tower is still visible. Another coeval watch tower stand aloof on the furthermost spur to the west of the bay. The beginning of the century, when the Belle Epoque was at its height, witnessed the first elite settlements, which would continue throughout the period between the two wars. Of great interest are: Villa Dagnino (1914), Villa Pojero (1915) and the Sea Kursaal (bathing establishment), built in late floreal style in fashion at the time.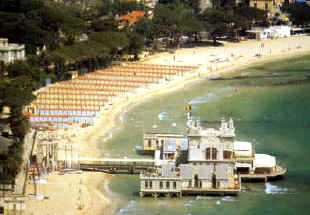 Top: the sea Kursaal and the equipped beach at the centre of the bay, in the area where the most prestigious hotels are found. The photos in these pages have been taken from the carriage road that, offering panoramic views of the sea, takes from Valdesi to the Sanctuary of Santa Rosalia, and then goes down towards Palermo, with a view of the wide gulf of the same name lying between Capo Mongerbino and the by now metropolitan urban area.


Bottom: the long uninterrupted strip of silvery and stretching as far as the old fishing village. In some caves at the foot of the overhanging walls of Monte Gallo, to the west of the oldest site, remains from the Upper Paleolithic have recently been discovered . In the grotta dei Vitelli (Cave of Calves), linear wall engravings have been found. An interesting boat trip can be taken to the Capo Gallo lighthouse, from which a peculiar phenomenon can be observed: a linear engraving on the rock, carved by waves and left uncovered by the raising of the coastal rock wall.