"The most perfect work ever produced by Christian art"
Thus commented Augusto Schneegans at the night of this incomparable monument. Its structure and the interior decorations represent the artistic fusion of the three components – Siculo-Roman, Byzantine and Arab – which have created immortal architectural masterpieces in Sicily. The interior combines the longitudinal plan of a Roman basilica with a central Byzantine body, creating a harmonius conjunction of lines and volumes. It extends over 32 metres lengthwise, with a nave and two aisles divided by two lines of five alternating Egyptian marble and half-fluted cipolin columns with Corinthian or composite capitals, one which is Arab. The Chapel is 12.5 m wide and 12.4 m high (18 m in the dome). The wooden lacunar of the nave was executed by Muslim craftsmen and is decorated with figures and inscriptions in Cufic characters. Mosaic entirely cover the walls of the nave, aisles and sanctuary, in a glittering gilded phantasmagoria of biblical scenes, saints and stories from the life of Christ.
The earliest mosaics in the Chapel, as the Greek inscription on the dome testifies, date from 1143 and reflect the Byzantine mosaic tradition of the 10C and 11C. The latest, characterized by Latin inscriptions and depicting Stories from the New Testament, are the ones along the nave (1154-68). The mosaics in the two aisles, depicting Stories of St Peter and St Paul, date from the 14C. The crypt is actually a small pre-existing church, on the site of which Roger had the Palatine Chapel built. Recent restoration work has brought to light the sepulchre of William the Bad; the crypt also contains the remains of the Viceroy of Sicily, Emmanuel Filibert of Savoy, who died in 1624.
"The Palatine Chapel, the most beautiful in the world, the finest religious jewel ever dreamt of by human thought and executed by the hands of an artist…"
(Guy de Maupassant)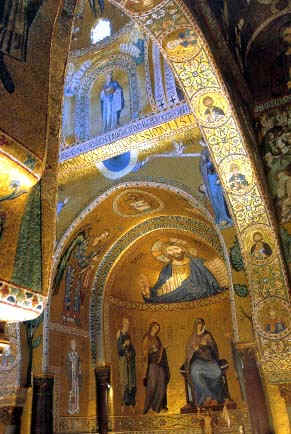 Mosaic representation of Christ Pantocrator blessing in the central apse. In his left hand, Jesus is holding the Gospel; the Greek and Latin inscription reads: "I am the light of the world. Whoever follows me will never walk in darkness, but will have the light of life".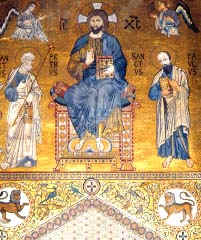 Christ blessing overhanging the royal throne on the back wall. Jesus is sitting on the throne and is flanked by the Apostles Peter and Paul; above them, the Archangels Gabriel and Michael. The two lions at the sides of the throne are a symbol of power and sovereignty
.