This Arabic epigraph, translated into Italian by the Palermitan historian Michele Amari, author of a volume on the history of Muslim in Sicily ("Storia dei Mussulmani in Sicilia"), attests to the derivation of the name of the palace from the Arabic word "Aziz", meaning "splendid". The gilded stucco inscription, written on a cornice along the top of the building, was removed in the 16C to make room for the merlons that are visible today. The original structure has undergone various adaptations and alterations. The double-light windows of the higher orders have been removed, and the interiors have been re-arranged several times. The palace, which was the seasonal residence of Norman sovereigns, was built by William I and completed by his son William II between 1165 and 1167.
"Whenever you want, you'll see the finest possession / Of the most splendid kingdom in the world: the seas, / And the mountain that (dominates) them, whose peaks are tinged with narcissus and … /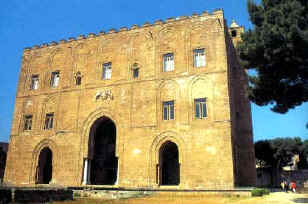 You'll see the (seed)ing of the furrow in the lovely scene / (which) magnificence and happiness befit / This is the Garden of Eden coming into sight; / This is the Mosta'izz (desirous of glory, as William II wanted to be called) / And this (palace), "Aziz".