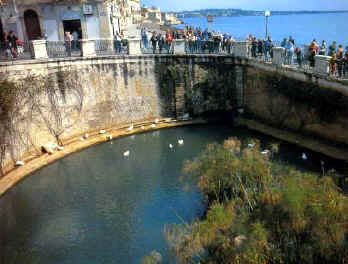 Publius Vergilius Maro, the great Latin writer and poet from Andes, near Mantova (70-19 BC), also sang the fountain in his verses:
"Right o'er against Plemmyrium's wat'ry strand,
there lie and isle once call'd the Ortygian land.
Alpheus, as old same reports, has found
from Greece a secret passage under ground,
by love to beauteous Arethusa led;
and, by mingling here, they roll in the same sacred bed.
As Helenus enjoin'd, we next adore
Diana's name, protectress of the shore.
With prosp'rous gales we pass the quiet sound
of still Elorus, and his fruitful bounds".
(Virgil; Aeneid, book III-151, transl. by J. Dryden, the Harvard Classic).
"August resting-place of Alpheus flower of the illustrious Syracuse, Ortygia". (Pindar)
Thus the poet sang the famous of Arethusa, nymph of Artemis and daughter of Nereus and Doris, whom a legend associates to the origins of Syracuse: "One day Arethusa, searching refreshment from hunting, bathed in the river Alpheus whom, struck by love for the beautiful nymph, took on human form to pursue her. In order to protect Arethusa, Artemis turned her into a spring, flowing undergound to emerge on the islet of Ortygia". The head of Arethusa, surrounded by darting dolphins, is a recurrent motif on the coins minted in Syracuse. Opposite, the silver tetradachm with the signature of the engraver, Kimon, and the image of the Medusa. The legend highlights the etnic and religious link between Syracuse and its mother-city, Corinth. Since ancient times, the site has been a source of inspiration for many travellers and men of letters.