Versione Italiana
Jera' Vulcano Blu sorge immerso nel verde di Vulcanello, a mt 600 dalle Sabbie Nere e km 1 da Vulcano porto, a poche centinaia di metri dal paese, quindi comodità, servizi e divertimenti sono a portata di mano, col trasporto garantito da un bus navetta, o a piedi, passeggiando nel parco naturale di 100.000 mq, che divide e protegge il villaggio. E vicino a casa: piscina, tennis, bar, ristorante, negozi, animazione per grandi e bambini. Sole, mare, orizzonte infinito. Chi vede per la prima volta Vulcano, quasi sospesa sul mare, rimane stupito per l'armonia e la forza dell'insieme. La fragranza della brezza marina si confonde col profumo del giardino tipicamente siciliano. Jera' Resort&CircoloVelico a Vulcanello, cuore delle Isole Eolie, nella migliore posizione di Vulcano, in un immenso parco di pini misti alla singolare vegetazione mediterranea che degrada direttamente nel mare. Potrai disporre dei migliori servizi per le vacanze che vuoi: uniche e indimenticabili. Fanghi miracolosi, natura, sport, giochi, animazione, scuola di vela e... relax garantito.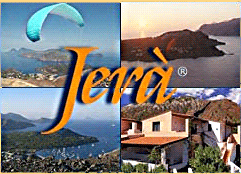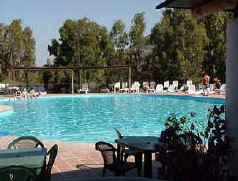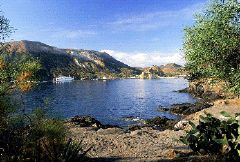 English Version
Jera' Vulcano Blu Residence is deep in the green of Vulcanello, (Vulcano Isle) at some hundred meters from the town. It offers comforts, services and pleasures, with transport guaranteed from a bus shuttle, or by foot, qoing for a walk in the natural park of 100,000 mq that divides and protects the village. And near to house, swimming pool, tennis bar, restaurant, store, animation for all (adults and childrens). Sun, Sea and an endless horizon. The first time you see Vulcano you'll be caught up by this island hanging over the sea, by the strength and the harmony of the whole complex. Sea winds' scents meet with the typical smells belonging to mediterranean gardens.
Jerà Resort&Sailing club in Vulcanello is right in the heart of Eolie Islands, in Vulcano's ever best location, deep in a huge pine-trees park which looks directly to the sea: the place to go when visiting Eolie Islands.
The best utilities and services will be at your disposal to make you spend unique and unforgettable holidays. Thermal Muds, nature, sports, games, entratainement, sailing lessons and...your relax is guaranteed!